Matthew T. Hale
Attorney Matthew T. Hale has spent more than two decades aggressively defending the rights of good people accused of serious crimes. Throughout his years of practice, Attorney Hale has helped thousands of individuals charged with everything from DUI to cyber crimes to murder. No matter the seriousness of your situation, he is prepared to fight for you.
Attorney Hale was born in 1970 in Kokomo, Indiana. He attended the University of Chicago (ranked fourth in the nation) where he earned his B.A. in political science. After graduating in 1993, Attorney Hale then attended the Indiana University School of Law, which is ranked 25th nationally. He graduated in 1997 with his J.D. before beginning his legal career in downtown Chicago that same year.
In 1998, Attorney Hale and his wife, Anita, moved to Seattle. There, he joined the Washington State Bar Association and began his law practice in the area. In addition to his membership with the Washington State Bar Association, Attorney Hale is a proud member of the Texas Bar Association as well.
In 2001, with three years of practice already under his belt, Attorney Hale began his practice at Hale Law Enterprises. As a Seattle criminal defense attorney, he has successfully handled thousands of cases throughout the state of Washington. Attorney Hale has defended NBA athletes, executives at large companies, and other good people accused of serious crimes. He is a proud member of the Washington State Bar Association, Washington State Trial Lawyers Association, Washington Association of Criminal Defense Lawyers, and the Texas Bar Association. Attorney Hale handles all types of criminal defense cases, offering exceptional representation and sound legal counsel every step of the way.
Practice Areas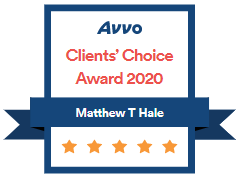 ---
Review our past client testimonials and contact Hale Law Enterprises today at (206) 207-4776 to schedule a free consultation with Attorney Hale.
---
Professional Associations
Washington State Bar Association
Washington State Trial Lawyers Association
Washington Association of Criminal Defense Lawyers
Texas Bar Association
King County Bar Association
State of Washington vs. C.Q.

DUI

State of Washington v. A.B.

Assault

State of Washington vs. D.L.

DUI

State of Washington v. J.C.

Assault

State of Washington vs. C.C.

Drug Crime

State of Washington vs. E.A.

DUI

State of Washington vs. B.H.

Cyber Crimes
Bio
Education
Professional Associations
Case Results